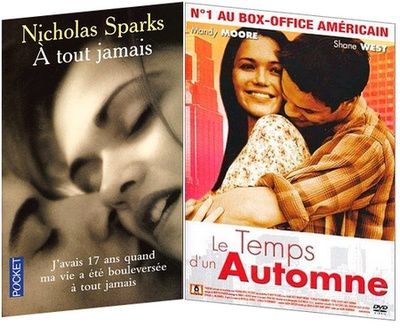 A tout jamais
de Nicholas Sparks

Résumé :
Chaque mois d'avril, Landon Carter est assailli par les souvenirs de sa dernière année de lycée. C'était en 1958, dans la petite ville de Beaufort, en Caroline du Nord. Fils de bonne famille, il aimait retrouver ses amis en classe, inviter ses jolies camarades, faire le mur de temps en temps, et se moquer de la fille du pasteur : avec sa bible, son éternel chignon et son dévouement sans faille qui plaisait tant aux grandes personnes, Jamie Sullivan avait le don de l'agacer. Pour le bal du lycée, Landon, qui se retrouve sans cavalière, est contraint de l'inviter. Elle le prévient : D'accord, mais promets-moi de ne pas tomber amoureux de moi. La vie en décide autrement : entre les deux jeunes gens, c'est le coup de foudre. Mais Jamie apprend à Landon qu'elle n'a plus que quelques mois à vivre.
Mon avis :
Vous devez connaître… Enfin, il se peut ! Parce qu'il est plus connu sous le titre d'un film « Le temps d'un automne » ou « A walk to remember ». Et oui, avant d'être un film, c'est avant tout un livre, l'oeuvre de Nicholas Sparks qui a aussi écrit « Les Pages de notre amour » ou « The notebook » pour les cinéphiles. Et encore « La bouteille à la mer » qui a été aussi adapté. En clair, vous avez du entendre parler de lui quelque part.
A dire vrai, pour ma part, j'ai fais sa connaissance par le biais de cette oeuvre littéraire très récemment. Etant une fan de « A walk to remember », j'ai souhaité le lire… Et je n'ai pas été déçu. J'ai trouvé que les mots, les phrases, se lisaient comme du petit pain, tout comme on tournait les pages.
C'est un roman magnifique, où je peux vous le garantir, pour ceux qui sont sensibles, auront la larme à l'oeil à la fin.